DelveInsight's "Tendinopathy Market Insights, Epidemiology, and Market Forecast 2032" report provides an in-depth understanding of the disease, historical and forecast epidemiology, and Tendinopathy market size, share, and trends on the seven main markets (7MM) (i.e. the United States, the EU5 (Germany, Spain, Italy, France and United Kingdom) and Japan).
The Tendinopathy market the report covers emerging drugs, current treatment practices, individual therapies market share, and current and forecasted market size from 2019 to 2032. It also assesses current treatment practice/algorithm, drivers and market barriers and unmet medical needs. opportunities and assess the underlying market potential.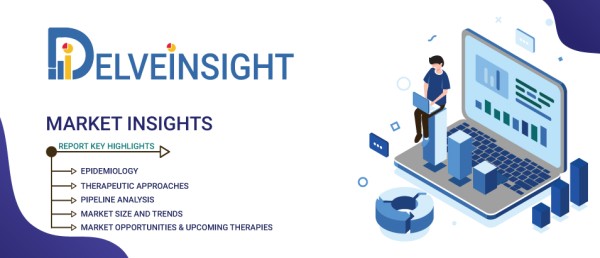 Tendinopathy: an overview
Tendinopathy describes a complex, multi-faceted pathology of the tendon characterized by pain, decline in function, and reduced exercise tolerance. The most common overuse tendinopathies involve the tendon of the rotator cuff, the medial and lateral epicondyles of the elbow, the patellar tendon, the gluteal tendons and the Achilles tendon.
Symptoms of tendinopathy include pain, swelling, and reduced function. The main histological and molecular features of tendinopathy include disorganization of collagen fibers, increased microvasculature and innervation of sensory nerves, dysregulated extracellular matrix homeostasis, increased immune cells and inflammatory mediators, and increased cell apoptosis.
Key drivers of the tendinopathy market
In a study by Forde et al., 2005, the most frequently diagnosed musculoskeletal disorders were tendinopathies (19%) and back disc ruptures (18%), shoulder bursopathy (15%) and carpal tunnel syndrome (12%)

According to a study by Ackermann, 2015, the incidence of tendinopathy is increasing in the developed world due to increased participation in recreational sports. Around 30% of all runners have Achilles tendinopathy, with an annual incidence of 7% to 9%.

According to DelveInsight estimates, the incidence of lower extremity tendinopathy is higher than that of upper extremity tendinopathy.
The tendinopathy market is expected to grow in the coming years owing to the increase in cases in 7MM. Improved understanding of the disease and advancements in therapeutic management are also expected to drive the growth of the therapeutic market.
The market outlook section of the report helps in building a detailed understanding of the historical, current and forecasted. Tendinopathy market size by analyzing the impact of current and emerging therapies on the market. It also provides an in-depth assessment of market drivers and barriers, unmet needs, and emerging technologies.
The report gives full details of Tendinopathy Market Trend for each marketed drug and late-stage therapies by assessing their impact based on annual therapy cost, mechanism of action (MoA), competition with other therapies, brand value and impact on the market.
Epidemiology of tendinopathy
The epidemiology section provides an overview of historical, current and projected epidemiological trends in the seven major countries (7MM) from 2019 to 2032. It helps to recognize the causes of current and projected trends by exploring numerous studies and viewpoints from world leaders. key opinion. The epidemiology section also provides a detailed analysis of the pool of diagnosed patients and future trends.
Segmentation of tendinopathy epidemiology
Total incident cases of tendinopathy

Total number of diagnosed and treatable cases of tendinopathy

Age-specific cases of tendinopathy

Specific cases of tendinopathy
Tendinopathy Drug Adoption and Pipeline Development Activities
The drug absorption section focuses on the absorption rate of potential drugs recently launched in the Tendinopathy market or should be launched during the study period. The analysis covers tendinopathy drug market adoption, patient adoption of therapies, and sales of each drug.
In addition, the therapeutic evaluation section helps to understand which drugs are absorbed the fastest and the reasons for the maximum use of drugs. Moreover, it compares drugs based on their market share.
The report also covers the Tendinopathy Pipeline Development Activities. It provides valuable information on different therapeutic candidates at various stages and on the main companies involved in the development of targeted therapies. It also analyzes recent developments such as collaborations, acquisitions, mergers, licensing patent details and other information on emerging therapies.
Sample PDF Report Request – https://www.delveinsight.com/sample-request/tendinopathy-market
Therapeutic analysis of tendinopathies
The current emerging tendinopathy landscape is limited and primarily includes phase II and phase III drug candidates. Major players in Phase II and III clinical development are MiMedx Group, Ipsen and others.
Tendinopathy therapies covered in the report include:
micronized dHACM – Micronized dHACM is an injection of dehydrated human amnion chorion membrane derived from donated human placentas and has anti-inflammatory, weakly immunogenic and anti-fibrotic properties. Currently, it is being evaluated in phase III for the treatment of Achilles tendonitis.

Dysport 500 – Ipsen collaborates with the CHU of Bordeaux to evaluate Dysport powder 500 units for injection in the treatment of tendinopathy.
Some of the Key Companies in the Tendinopathy Market Include:
And many more
Get more in-depth insights into emerging therapies and key companies – https://www.delveinsight.com/sample-request/tendinopathy-market
Table of Contents (TOC)
1. Key information
2. Executive Summary
3. Tendinopathy Competitive Intelligence Analysis
4. Tendinopathy Market Overview at a Glance
5. Background and overview of tendinopathy
6. Tendon patient journey
7. Epidemiology of tendinopathy and patient population
8. Tendinopathy Treatment Algorithm, Current Treatment and Medical Practices
9. Tendinopathy Unmet Needs
10. Key Parameters of Tendinopathy Treatment
11. Products marketed for tendinopathy
12. Emerging therapies for tendinopathy
13. Tendinopathy Major Seven Market Analysis
14. Attribute analysis
15. Tendinopathy Market Outlook (7 Major Markets)
16. Tendinopathy Access and Reimbursement Overview
17. KOL views on the tendinopathy market.
18. Tendinopathy Market Drivers
19. Tendinopathy Market Barriers
20. Appendix
21. DelveInsight Abilities
22. Disclaimer
*The table of contents (TOC) is not exhaustive; final content may vary. Refer to the sample report for the complete table of contents.
Download Sample PDF Report – https://www.delveinsight.com/sample-request/tendinopathy-market
About DelveInsight
DelveInsight is a leading business consultant and market research firm focused exclusively on life sciences. It supports pharmaceutical companies by providing complete end-to-end solutions to improve their performance.
Other Health Care Reports by DelveInsight
Thalassemia Market
The "Thalassemia Market" report offers an in-depth understanding of historical and forecasted epidemiology as well as market trends of thalassemia in the United States, EU5 (Germany, Spain, Italy, France, and United Kingdom) and the Japan.
Media Contact
Company Name: DelveInsight Business Research LLP
Contact person: Shruti Thakur
E-mail: Send an email
Call: 09650213330
Address:304 S. Jones Boulevard #2432
Town: Vegas
State: NV
Country: United States
Website: https://www.delveinsight.com/